Veterinary Care & Services for the Diagnosis & Treatment of Pet Heart Disease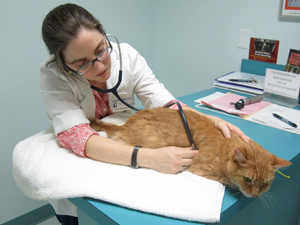 Veterinary cardiology is a specialty dealing with disorders of the heart. At Crescenta Valley Veterinary Hospital, services include diagnosis and treatment of heart defects, heart failure, and heart valve disease.
While we most often think of heart problems in senior pets, we see patients born with heart defects and those that have been neglected, are obese, or have other diseases affecting the heart. Whatever the cause, we are proactive in diagnosing and treating your pet with heart disease.
Symptoms of Pet Heart Disease
Symptoms of heart disease may be subtle, occurring over time. Pets with heart disease become fatigued more easily, demonstrate reduced stamina, and are reluctant to engage in play or other activities. In addition, abnormal heart rhythms result in inconsistent blood flow, and this may cause fainting, poor appetite, and vomiting. In an undiagnosed pet, rapid or heavy breathing, a blue tongue, drooling, or collapse may be the first signs of heart problems.
Cardiac disease can be diagnosed by your veterinarian by listening with a stethoscope. At every wellness visit, we listen carefully to your pet's heart and document any changes in overall health and behavior. If a problem is suspected, additional diagnostics are performed to better determine the severity of the condition:
Chest X-ray—Determines the size and shape of the heart and the presence of fluid in the lungs or chest
ECG (electrocardiogram) —Measures electrical activity, heart rate, and rhythm
Ultrasound —Evaluates contractions, heart muscle thickness, heart valve function, and the amount of blood pumped by the heart; patients may be referred to cardiology specialist for echocardiography
Blood samples and laboratory testing can offer additional information about the extent of disease and other contributing factors.
In treating heart conditions, our veterinarians explain all the options and make recommendations based upon your pet's unique issues. We inform you about the risks and advantages of every procedure and treatment modality. We offer as many resources as necessary for you to make informed decisions about your pet's care.
Preventing Pet Heart Disease
It is possible, in many cases, to prevent heart disease in your animal companions. Pets that have had little or no dental care throughout their lives often suffer from secondary heart problems. Many dogs and cats become gravely ill and die from heartworm disease, in spite of the simple and reasonable preventives available today. Obesity puts a dramatic strain on the heart and, over time, causes serious damage. These and other forms of heart disease are quite preventable with regular and appropriate wellness care.
Enjoy this article, Canine Heart Disease, from Pet MD and read more about the symptoms of pet heart disease.
Best vet ever anywhere."
- Michael D.
I not only like the Crescenta Valley Vet Hospital, I like the people who run it!!"
- Elizabeth G.
You folks are the best, thanks for taking such good care of our 4 legged children"
- Helen L.
THANK YOU to the doctors and staff at CV for being so caring and patient, with animals and humans!! :) We love u!!"
- Dantes and family!!
These guys are fantastic. The staff are so friendly and helpful, you couldn't want a better place to take your loved ones for care. I wish hospitals were this good!!!"
- Virginia C.
Thank you from the bottom of our hearts for all your care and concern. We are fortunate to have you."
- Sparky & Martha
CVVH not only strives to provide the best medical care for your pets, but they also educate pet owners on how they can be proactive in creating a quality lifestyle for their pets."
- John C.
Thanks so much for the years of care & treatment for Buddy & Bruin. You and your staff are the best!"
- Chris L.