Resources for Dog, Cat & Exotic Pet Owners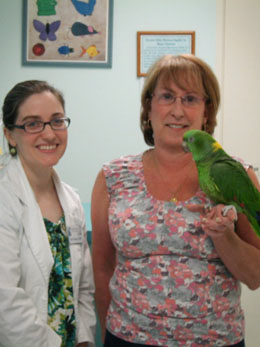 Crescenta Valley Veterinary Hospital offers a variety of resources to enhance your pet ownership experience. These resources make your life easier and keep you informed and up-to-date:
New clients —Read our policies, learn about us, and download our convenient online forms.
Adoption —View photos and read profiles of area pets looking for the perfect family.
News —Check out the most current news in veterinary medicine and bulletins from our office.
Our pet picture gallery gives owners of every age the opportunity to brag about their pets and document their growth. In addition, we offer a list of our favorite links to pet-related organizations and resources.
When you are experiencing the loss of a pet, or are preparing for that time, we offer an extensive library of articles and answers to frequently asked questions about managing loss, as well as options for memorializing your special animal companion.
For additional information including links to pet health care sites, veterinary organizations, pet loss support, and more, we offer this useful resources handout.
Attention to Detail
Our attention to "the little extras" for pet owners contributes to our reputation as The Best of Glendale/Best of the Foothills and C.V. Weekly's Finest Veterinarian. Take a virtual tour of our clinic, meet our team, and then contact us to schedule your first visit.
Crescenta Valley Veterinary Hospital is here to support you with all of your pet needs. We offer comprehensive veterinary services for dogs, cats, birds, rabbits, reptiles, small mammals, and other exotic pets.
Best vet ever anywhere."
- Michael D.
I not only like the Crescenta Valley Vet Hospital, I like the people who run it!!"
- Elizabeth G.
You folks are the best, thanks for taking such good care of our 4 legged children"
- Helen L.
THANK YOU to the doctors and staff at CV for being so caring and patient, with animals and humans!! :) We love u!!"
- Dantes and family!!
These guys are fantastic. The staff are so friendly and helpful, you couldn't want a better place to take your loved ones for care. I wish hospitals were this good!!!"
- Virginia C.
Thank you from the bottom of our hearts for all your care and concern. We are fortunate to have you."
- Sparky & Martha
CVVH not only strives to provide the best medical care for your pets, but they also educate pet owners on how they can be proactive in creating a quality lifestyle for their pets."
- John C.
Thanks so much for the years of care & treatment for Buddy & Bruin. You and your staff are the best!"
- Chris L.