End-of-Life & Hospice Care for Pets Include Euthanasia Services & Loss Support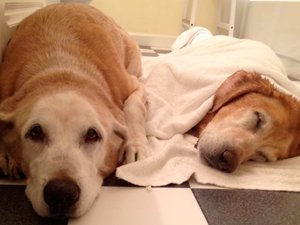 End-of-life care is as varied as the many types of pets and owners. The team of professionals at Crescenta Valley Veterinary Hospital supports every patient and pet owner in the last days. We offer a variety of services that make this time one of comfort and gratitude for a life well lived.
We Can Help
Whatever your situation, end of life can be challenging for the pet owner. From a tragic accident that leads to the decision for euthanasia, to pain management and comfort for a chronically ill senior, every pet experience is different.
Some families wish to be present in their pets' last moments while others cannot bear to watch their special companion leave this world. You may wish to bring your pet home, to pass while surrounded by loved ones and familiar surroundings. We offer supportive counseling and informational resources to help you with your decision. Special arrangements may be made for in-home euthanasia.
Pain management is essential at this time. For home care, we provide the patient with palliative support for a comfortable, humane experience. We are available by phone during this time of hospice care to answer your questions or provide intervention if needed.
Pet Loss Support
Online pet loss services include a library of information about losing a pet—before, during, and after the process. We also offer methods to memorialize your pet, with tributes to your special companion in a variety of mediums.
Our team is here to help and guide you at this difficult time. Contact us with questions about end-of-life care for your pet or if you need support.
Best vet ever anywhere."
- Michael D.
I not only like the Crescenta Valley Vet Hospital, I like the people who run it!!"
- Elizabeth G.
You folks are the best, thanks for taking such good care of our 4 legged children"
- Helen L.
THANK YOU to the doctors and staff at CV for being so caring and patient, with animals and humans!! :) We love u!!"
- Dantes and family!!
These guys are fantastic. The staff are so friendly and helpful, you couldn't want a better place to take your loved ones for care. I wish hospitals were this good!!!"
- Virginia C.
Thank you from the bottom of our hearts for all your care and concern. We are fortunate to have you."
- Sparky & Martha
CVVH not only strives to provide the best medical care for your pets, but they also educate pet owners on how they can be proactive in creating a quality lifestyle for their pets."
- John C.
Thanks so much for the years of care & treatment for Buddy & Bruin. You and your staff are the best!"
- Chris L.