Veterinary Cancer Care & Treatment for Your Dog, Cat or Small Animal Pet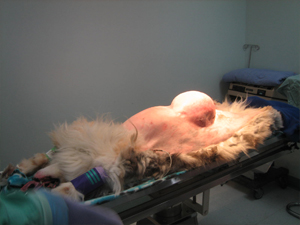 Cancer accounts for almost half of the deaths of pets over 10 years of age. Dogs get cancer at roughly the same rate as humans, while cats have a somewhat lower rate. The professionals at Crescenta Valley Veterinary Hospital have extensive experience in diagnosing and treating cancers in animal companions.
Pet Cancer Treatment
Each patient is unique and there are many different types of cancer. Treatment for the disease depends upon many factors such as your animal's age, type of cancer, and overall condition.
There are three common types of treatment for this disease:
1. Surgery
2. Chemotherapy
3. Radiation therapy
Surgery is by far the most common treatment for pets, as many cancerous tumors are removed with little or no difficulty. With our modern surgical techniques, most patients recover quickly from this procedure. Of course, if the tumor is large enough to endanger the patient if removed, or if the cancer has spread, surgery is not an option. Other concerns may be the age or health of the patient, causing a higher risk during anesthesia.
Chemotherapy is treatment with toxic chemicals designed to kill the rapidly reproducing cancer cells. Usually administered intravenously, chemotherapy tends to be well tolerated by animals with few side effects. It is uncommon for pets to experience the severe nausea and hair loss that humans have during these treatments.
Radiation therapy consists of high doses of radiation intended to shrink or arrest the growth of cancerous cells. This requires special equipment and facilities less common in veterinary practices and is provided by referral.
Our team will work with you, to develop a treatment plan that meets your needs and offers your pet the longest, most comfortable life. We offer complementary techniques as well, to ease discomfort and promote healing in our pet patients.
Common Signs of Cancer in Pets
The American Veterinary Medical Association offers these indicators for cancer in pets:
Abnormal swellings that persist or continue to grow
Sores that do not heal
Weight loss
Loss of appetite
Bleeding or discharge from any body opening
Offensive odor
Difficulty eating or swallowing
Hesitation to exercise or loss of stamina
Persistent lameness or stiffness
Difficulty breathing, urinating, or defecating
The American Animal Hospital Association's Healthy Pet website offers more about
cancer care in pets
.
Best vet ever anywhere."
- Michael D.
I not only like the Crescenta Valley Vet Hospital, I like the people who run it!!"
- Elizabeth G.
You folks are the best, thanks for taking such good care of our 4 legged children"
- Helen L.
THANK YOU to the doctors and staff at CV for being so caring and patient, with animals and humans!! :) We love u!!"
- Dantes and family!!
These guys are fantastic. The staff are so friendly and helpful, you couldn't want a better place to take your loved ones for care. I wish hospitals were this good!!!"
- Virginia C.
Thank you from the bottom of our hearts for all your care and concern. We are fortunate to have you."
- Sparky & Martha
CVVH not only strives to provide the best medical care for your pets, but they also educate pet owners on how they can be proactive in creating a quality lifestyle for their pets."
- John C.
Thanks so much for the years of care & treatment for Buddy & Bruin. You and your staff are the best!"
- Chris L.