Pet Dental Care Services with Regular Exams, Teeth Cleaning & Dental Extractions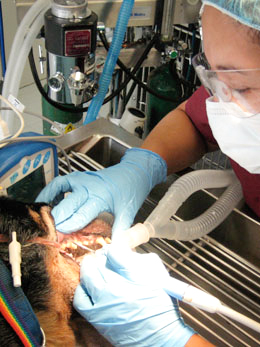 Crescenta Valley Veterinary Hospital offers a full range of veterinary dental services for pets. As part of every pet's wellness care, we conduct a brief oral exam to determine if teeth cleaning or other dental services are needed. We then create a dental care plan to address your pet's specific needs and to maintain overall health.
Pet Dental Services
Pet dental services include prophylaxis, extraction, teeth cleaning, polishing, and fluoride treatment to ensure a healthy smile and fresh breath. Dogs and cats are vulnerable to dental problems, with more than two-thirds showing signs of oral disease by the time they are three years old. Oral examinations provide for the early detection of oral diseases and tumors, which, left unchecked, can lead to systemic problems such as heart, liver, or kidney disease.
Dog & Cat Teeth Cleaning
The AAHA Dental Care Guidelines recommend a thorough oral exam and teeth cleaning, performed under general anesthesia for the safety of your dog or cat. The guidelines further recommend the following procedures:
Pre-anesthetic exam—Whenever anesthesia is needed, we thoroughly examine the patient. Depending upon age and general physical condition, we may also run blood, urine, electrocardiograph, and X-ray tests to check for any dangerous conditions to determine if the patient is healthy enough for the procedure.
Anesthesia monitoring—During anesthesia, we monitor and record vital signs such as body temperature, heart rate, and respiration.
Scaling and polishing—We use similar instruments as human dentists to remove plaque and calculus from your pet's teeth. To smooth out scratches in the tooth enamel, we polish with a special paste.
Fluoride/sealants—The application of an anti-plaque substance such as a fluoride treatment is also advised to strengthen and desensitize teeth as well as decrease future plaque.
Important Note About Dental Anesthesia and Teeth Cleaning:
A number of pet supply stores and grooming shops are offering "anesthesia-free" teeth cleaning. Please beware!
Review the risks in this helpful handout from CVVH
Pet Dental Home Care
Brushing your pet's teeth is easy and can be fun for you both. At the hospital, you may access our Pet Health Network touch screen monitors in the exam rooms to view a training video on how to brush your pet's teeth.
You may also enjoy the WebMD Pet website, which offers a video demonstration in How to Brush Your Dog's Teeth and the comprehensive article Ten Steps to Cat Dental Health.
For more information on getting started with your pet's home dental care regime, read the AAHA teeth brushing article.
Pets Need Dental Care, Too is a Pet Dental Health campaign site providing information, instruction, and fun activities for kids.
Best vet ever anywhere."
- Michael D.
I not only like the Crescenta Valley Vet Hospital, I like the people who run it!!"
- Elizabeth G.
You folks are the best, thanks for taking such good care of our 4 legged children"
- Helen L.
THANK YOU to the doctors and staff at CV for being so caring and patient, with animals and humans!! :) We love u!!"
- Dantes and family!!
These guys are fantastic. The staff are so friendly and helpful, you couldn't want a better place to take your loved ones for care. I wish hospitals were this good!!!"
- Virginia C.
Thank you from the bottom of our hearts for all your care and concern. We are fortunate to have you."
- Sparky & Martha
CVVH not only strives to provide the best medical care for your pets, but they also educate pet owners on how they can be proactive in creating a quality lifestyle for their pets."
- John C.
Thanks so much for the years of care & treatment for Buddy & Bruin. You and your staff are the best!"
- Chris L.